René 25
Celebrating the research interests of René Schoof
Tourism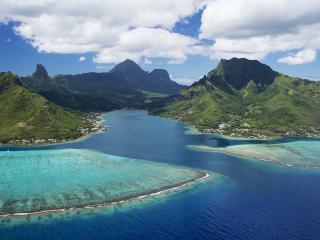 We refer to the Wikitravel guides for Tahiti and French Polynesia but nevertheless offer the following highlights.
Tahiti
We strongly suggest participants spend at the very least a few extra days on the island of Tahiti before or after the conference and consider the following activities:
Papeete's market features local produce of all kinds, including various tropical vegetables, fruits, other food items but also garments, pearls and wooden artwork. Especially lively on Sundays early in the morning.
Round-the-island tour is a very popular one-day road trip of about 120 kilometers, stopping at the best sights: Pointe Venus Lighthouse, Arahoho blowhole, Trois Cascades, Taravao belvedere, Teahupoo, Botanical Garden, Arahurahu Marae, Maraa Grotto.
Whale watching is popular from August to November when the island of Tahiti hosts hundreds of humpback whales which migrate yearly from Antarctica. A boat takes you to see the whales and swim with them. Operators include Dive and Sea, Fluid Tahiti and Topdive among many others.
Papenoo valley is the island's biggest and features a dirt road linking the North and South side of the island, passing by beautiful mountains, rivers and waterfalls. This drive is hazardous so professional operators are strongly recommended for this one-day excursion; they include Tahiti Safari Expedition.
French Polynesia
For participants able to extend their stay in French Polynesia beyond the week of the conference, we highly recommend visiting other islands:
Islands of the Society archipelago are typical volcanic islands. They include Huahine, Raiatea, Maupiti and Bora Bora, the latter being the most beautiful but also the most touristic.
Islands of the Tuamotu archipelago are atolls which are renowned worldwide for scuba diving but offer few other activities.
Islands of the Marquesas archipelago are mountains and home to important cultural heritage; they are a three-hour flight away from Tahiti.